October 11
th
, 2017 – The Hague, The Netherlands In the Hague – At the Layer 123 Gala Awards Dinner, EnterpriseWeb received a Network Transformation Award for "Interoperability".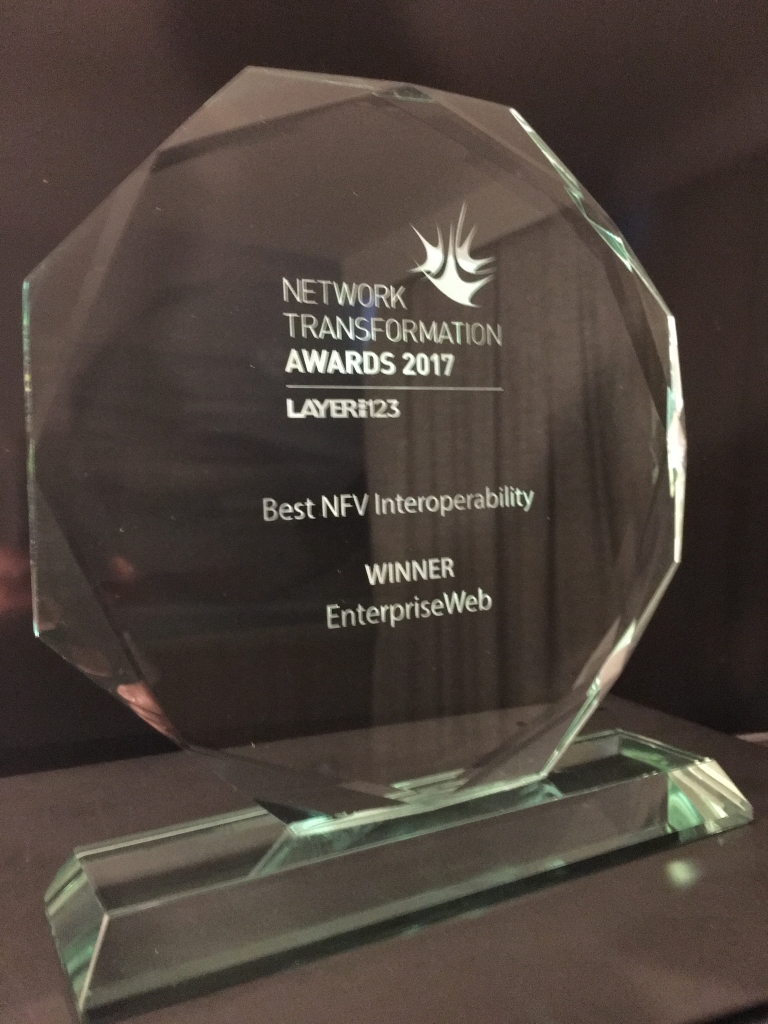 Since the inception of the Network Function Virtualization movement in Telecom, EnterpriseWeb has collaborated with leading CSPs and vendors to demonstrate interoperability in complex, open, multi-vendor eco-systems. Last year the company contributed a "Metamodel for a Virtual Function Package", to the TMF.
The Metamodel represents a universal template for onboarding VNFs, which allows mapping of proprietary interfaces to standards-based APIs, while capturing unique characteristics of each discrete VNF. The Metamodel provides a flexible, extensible and adaptable model for capturing functional descriptions of VNFs as well as non-functional metadata and metrics for managing them. The Metamodel allows CSPs to streamline onboarding and automate downstream processes and lifecycle management.
About NetTA – Network Transformation Awards
Network Transformation Awards recognise achievement in advancing the industry, celebrate innovation founded on SDN and NFV, and inspire determination for future progress.
In its first year, Network Transformation Awards, part of this year's SDN NFV World Congress, highlight the industry's most innovative people and companies by recognising their most significant achievements in accelerating Network Transformation over the last 12 months. NetTA shortlist and winners are selected using a transparent and robust process, and judged independently by a panel of leading analysts invited from SDN NFV Congress Analyst Partners.
NetTA Winners can be confident in receiving an authentic Award, that highlights their leadership and achievement, and gives credit to themselves, their work and their company.