Former Vodafone Executive Brings 25 years of Telecom Experience to High-Profile Startup 
GLENS FALLS, NY, September 6, 2017 – EnterpriseWeb® (www.enterpriseweb.com), a software company that offers an intelligent operations platform, which radically simplifies the design, deployment and management of complex distributed processes including Network Function Virtualization (NFV), Internet-of-Things (IoT) and Enterprise applications, announced today that industry innovator David Amzallag has joined the company as a Strategic Advisor.
David brings 25 years of telecom industry experience to the high-profile startup. Most recently, David led "Project Ocean" for Vodafone, a major organization-wide initiative to re-architect the Tier-1 Telecom for emerging virtualization technologies, specifically Network Function Virtualization (NFV) and Software Defined Networking (SDN). His work has been followed closely in the trade press (Article 1, Article 2, Article 3).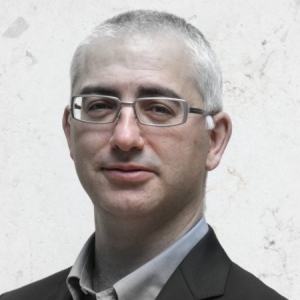 David, who earned a PhD from the prestigious Technion – Israel Institute of Technology, held previous executive posts with telecom vendors Alcatel-Lucent (now Nokia) and Amdocs, as well as BT. His Computer Science background and distinguished career has given him unique insights into the operations of Communication Service Providers (CSPs) and a practical understanding of both the challenges and opportunities for industry transformation. (LinkedIn Profile).
Since leaving Vodafone, David has been working closely with a select group of innovative companies that have great potential to influence the future of the Telecommunications Industry (Article 4). He will collaborate with EnterpriseWeb's leadership to inform and help drive the company's market and product strategies.
EnterpriseWeb's team understands the requirements of cloud-native services and distributed processes. They built an elegant product that abstracts away much of the complexity of onboarding, composing and managing Virtual Network Functions so CSPs can flexibly connect multi-vendor solutions and accelerate service delivery." said David Amzallag. "The model-driven platform dynamically mediates relationships between proprietary interfaces, standards-based APIs and disparate technologies and dynamically glues together different components – VNFs, VNFMs, Orchestrators, SDN Controllers, Target Hosts, etc. – allowing for open, automated and agile operations – it's a game-changer. I'm excited to join this talented team and help CSPs to virtualize their networks and achieve zero-touch automation."
"David's experience gives him a unique perspective of the end-to-end processes in large Telcos. He understands that the success of Carrier Virtualization will not come from any individual Virtual Function or siloed Network Service, but rather depends on how sets of elements can be flexibly composed into agile services and rapidly reconfigured as requirements, standards and technology evolve, "noted Dave Duggal, founder and CEO of EnterpriseWeb. "David will be instrumental in helping us scale our business into the world-class product company we intend to be."
About EnterpriseWeb
EnterpriseWeb (www.enterpriseweb.com) is a New York based software company, which offers an intelligent operations platform, which radically simplifies the design, deployment and management of Cloud-native applications and distributed processes.
While Globalization, Outsourcing, Cloud-computing and the Internet-of-Things have led to the increasing fragmentation of modern organizations, EnterpriseWeb has made it easy for customers to work across business silos, IT layers and partner ecosystems for highly-integrated operations.
With EnterpriseWeb, organizations can quickly onboard diverse functions, services, systems, databases and devices into a graph-connected model of software objects – an enterprise "web" of information and capabilities.
The Platform allows customers to flexibly compose the objects with low or no-code; application logic is defined by policies and metadata. The approach supports rapid prototyping of intelligent, event-driven services, applications and processes that can be managed from a unified command center.
Customers and partners around the world use EnterpriseWeb to develop differentiated and transformative solutions. EnterpriseWeb supports Cloud, On-premise and Hybrid/Multi-Cloud deployments. In addition, EnterpriseWeb also offers vertical solutions including: "CloudNFV" for the Networking/Telecom domain and "Ideate" for R&D management and compliance.
Media Contact: Dave Duggal, +1 (646) 502-8062 x444, [email protected]

Related Links:

Telecom Background:
EnterpriseWeb was an early participant in the Carrier Virtualization space providing enabling technology for ETSI NFV Proof-of-Concept #1, "CloudNFV".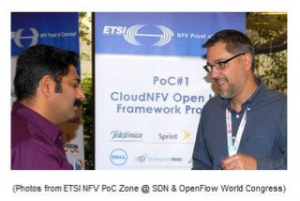 In a series of six award-winning TMF Catalysts, supported by Tier-1 Telecoms (e.g. AT&T, Orange, Verizon, Telstra, Vodafone, China-Mobile, KDDI) and leading vendors (e.g. Oracle, Nokia, Metaswitch, Symantec, Connectem, EXFO, IBM, F5, SevOne, Qosmos, InfoSim, Huawei), EnterpriseWeb has demonstrated its ability to rapidly onboard partners, compose multi-vendor capabilities into Network Services, orchestrate deployments and provide event-driven, policy-based lifecycle management for autonomic closed-loop control.
The bootstrapped startup has made important contributions to standards to help advance the industry. Beyond thought leadership, EnterpriseWeb is deployed in Tier-1 environments, to help enable transformation initiatives.
CloudNFV is comprised of several components. It features a Universal Template for flexibly and rapidly onboarding heterogenous multi-vendor Virtual Functions as software objects mapped to industry standards (e.g. ETSI NFV; OASIS TOSCA, TMF OpenAPIs).
The Virtual Functions are persisted in a Unified Catalog, along with models of related service orchestrators, automation tools, resource orchestrators (i.e. NFVOs), domain controllers (i.e. VNFMs), infrastructure managers (i.e. VIMs) and other components (e.g. databases, operating systems, tools, runtime engines), which are all dynamically indexed, tagged, and version-controlled for lifecycle management. Customers use the Platform's Design Environment to declaratively compose the objects into dynamic, data-driven, policy-controlled Network Services.
EnterpriseWeb's Execution Environment computes an optimized plan which it can process directly, leveraging a library of platform services (e.g. integration, orchestration, automation, and configuration services) or it can delegate processing to federated services as specified. At run-time, the Execution Environment provisions the Network Service, connecting all necessary solution elements (local and remote) and mediating their communications on-demand. The platform can also connect Network Service events to business processes via workflow services for interactive human monitoring and control.
CloudNFV exposes a unified north-bound interface to the OSS/BSS that abstracts NFV and SDN complexity so CSPs can achieve zero-touch management and operations ("MANO") today. The highly-scalable and available platform can be deployed on servers at core of the network or the edge. It can also be delivered as a Cloud-based service, an appliance or embedded on a device.
In response to requests from customers and system integrators, EnterpriseWeb has decomposed its platform into a set of discrete capabilities, which can be deployed as Microservices. Each implements a sub-domain of NFV domain based on ETSI standard interfaces (i.e. NFVO, VNFM, VIM). This allows Communication Service Providers to deploy EnterpriseWeb as a mediator for targeted use-cases (e.g. one-to-many orchestrators, one-to-many controllers, and one-to-many target hosts).
CloudNFV's flexible deployment options address real-world pain that CSPs have at each layer. It allows CSPs to think big, start small and grow their virtualization programs based on success.