Posted: 11/18/2015 4:11 pm EST
http://www.huffingtonpost.com/chaker-khazaal/hey-siri-who-is-smartalex_b_8531064.html
When you ask Siri this question, "Who is Smart Alex?," she will tell you that it's the third studio album by the Adicts, taking this from Wikipedia. However, let me introduce you to a different Smart Alex.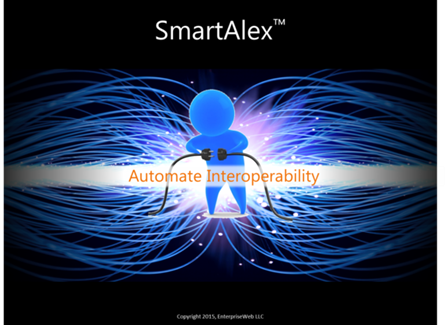 SmartAlex is the new Intelligent Agent (IA) on the block. Siri might not know of him yet, but I suspect she will soon as SmartAlex is addressing some 'wicked problems' in Enterprise IT, Cloud Computing and the Internet of Things.
Though the two IAs are conceptually related technologies, SmartAlex is a 'brother from another mother'.
While other IAs have been introduced by large West-Coast software companies, SmartAlex is the brainchild of a small upstate NY-based startup that is starting to make waves in tech circles worldwide. But what really makes SmartAlex unique is that it's not just another voice-activated personal assistant for asking for the weather, directions or a song on a playlist; it's an industrial-strength agent for connecting people, systems, devices and data sources in real-time business processes.
"Today, almost every software application is a composite of re-usable building blocks, APIs and Services, shared by business units, partners and public websites," explains Dave Duggal, the Founder and Managing Director of EnterpriseWeb. "The sharing suggests a marketplace of information and functions, but at this stage the integration work is still manual, time-consuming and expensive."
To illustrate his point, Dave relates these challenges to the early days of the telephone, when switchboard operators manually connected every call on a one-off basis. As the popularity of the telephone increased, the demand grew beyond the ability of the service providers to scale these operations. The automation of these tasks was a critical step towards building the global communication system we have today.
"We're in that same place today," he notes. "In order to get to the next level, the 'Digital Enterprise', we need to get the man out-of-the-middle; we need to automate IT itself."
Dave projects energy and confidence on the phone. So when we met up at a brick-oven pizza shop in the Chelsea neighborhood of New York City, I wasn't surprised that the 49-year-old, despite some gray hair, was fit and youthful in appearance. Wearing jeans and a button up shirt, he looks every bit the software startup executive that he is.
Dave is the son of two immigrants. A middle-child of three, he was born in the Bronx and grew up in Westchester County. He was running another business when he met his wife, Jen, in New York City where she was getting her Masters at Columbia University. Now they live with their two children in a small town in upstate NY, near Saratoga Springs and Lake George. It is from there that Dave is quietly leading a revolution.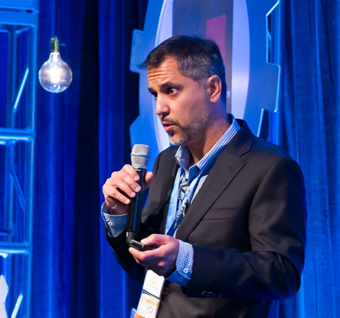 The whole thing seems quite improbable. An Upstate NY entrepreneur, who 'bootstraps' his company to profitability, now stands to disrupt the global software market with an innovative and transformative solution. It's clear he relishes this David vs. Goliath role, pointing out that, "All revolutions come from the periphery to challenge the center." He adds wryly, "They wouldn't call it disruption if you could see it coming."
EnterpriseWeb is on the frontier of our software-defined future where Artificial Intelligence (AI) meets Distributed Computing. Dave anticipated this confluence, and founded EnterpriseWeb in 2009 with his co-founder and Chief System Architect, William Malyk. Together, they patented a technology that brought together a scalable and resilient Web-style architecture with Intelligent Software Agents to render 'smart', context-aware services.
When asked what problem he is solving, Dave suggests that organizations are struggling to figure out how to act in a unified and agile manner during this increasingly fragmented age. He notes with a grin "this is a wicked problem". Apparently a phrase shared by teenage Bostonians, computer scientists, and this entrepreneur.
Most software is typically programmed in advance to perform standard routines using pre-specified functions and data sources. The resulting application is tightly-coupled in a way that makes it inflexible, which is why enterprise software often seems less personal and adaptable.
Agent-based solutions differ from conventional software applications as they are interactive by design. With Agents, a user makes a request (verbally or by a keyboard or mouse action) and the Agent interprets it against a set of objects it understands.
EnterpriseWeb has been recognized as "Most Innovative" solution two years in row by the Telecom Industry. The Company's "CloudNFV" solution supports end-to-end DevOps automation.
Leading Academic Medical School uses EnterpriseWeb for a unified Research Management portal, dynamic human processes, integrated administrative processes, and proactive enforcement of regulatory and institutional compliance.
Large SAP integrator developed next generation Data Migration and Governance Tools using the EnterpriseWeb platform to support flexible interoperability with SAP components, eliminating expensive and brittle software customizations.
EnterpriseWeb ranked one as one of the "Top Twenty Most Promising DevOps Solutions", by CIO Review, June 2015.
Global strategic consulting firm uses EnterpriseWeb to rapidly prototype differentiated solutions for a diverse range of industries and problem domains.
EnterpriseWeb goes even further. It uses Intelligent Software Agents to turn software development inside-out.
Dave explained the technology this way, "Since SmartAlex does all the heavy-lifting, people are liberated from complex technical tasks and can focus on composing value-added services." Since there are no tightly-coupled integrations, the resulting applications are flexible and adaptable.
He adds, "Now designers can rapidly model solutions out of re-usable building blocks and link them to policies and algorithms that will guide SmartAlex to find-and-bind the right information on-demand."
Dave describes SmartAlex succinctly, as a Concierge that responds to requests for service, leveraging real-time information, its interaction-context, to personalize user-experiences.
Amazingly, I think I understand it. In fact, it all sounds so sensible on its face value that I have to ask him why this didn't exist already.
"Making things simple is hard," he responded. "EnterpriseWeb is based on a high-level software abstraction. Many folks in IT, Networking and even Computer Science are highly-specialized and don't pursue end-to-end solutions. Also, keep in mind that middleware vendors make a lot of money on the status quo." Dave concludes, "Cloud, Internet-of-Things, Network and System integration are all fundamentally distributed computing problems. By generalizing the problem, we tear down IT silos and enable transformation."
Based on their activity, it looks like the industry agrees with him. EnterpriseWeb, which has no sales or marketing team, has earned customers and partners on four continents. The platform, also named EnterpriseWeb, is winning awards in a variety of industries from Telecom to Life Sciences.
Businesses are indeed undergoing a period of tremendous change. By offering a truly modern software architecture, this upstart aims to significantly reduce the costs, effort and risks of transformation and deliver on the elusive promise of business agility. It's a tall order, but the breadth of EnterpriseWeb's vision appears to be matched by their strength of execution. It will be exciting to see how things unfold for them.
Follow Chaker Khazaal on Twitter: www.twitter.com/ChakerKhazaal