https://www.linkedin.com/pulse/collaborating-zero-touch-network-service-management-dave-duggal/
Scaling NFV-based operationsusing standards and advanced automation capabilities
By Dave Duggal, founder & CEO, EnterpriseWeb LLC
EnterpriseWeb is a member of new ETSI ISG focused on Zero-touch Network and Service Management (ETSI ZSM), which builds on the foundational work of ETSI NFV.
While ETSI NFV specified the primary components of Network Function Virtualization with its MANO architecture and related specifications, it intentionally kept the application layer out of scope in order to focus on the core virtualization aspects. Now ETSI ZSM is tackling the application layer to extend the scope of standards-based interoperability and automation so NFV can scale operationally.
As the name suggests, Zero-touch Network and Service Management is about "hands-free" operations. Network Operators want to leverage automation to eliminate human touch-points in end-to-end processes to become real-time Digital Service Providers. The goal is to radically reduce OpEx, while improving customer experiences, service velocity and business agility.
The Challenge
ETSI NFV abstracted Network Functions from Network Appliances so they can be managed as software, but when they did they exposed the tremendous complexity that was hidden away in all those expensive middle-boxes and custom ASIC chips.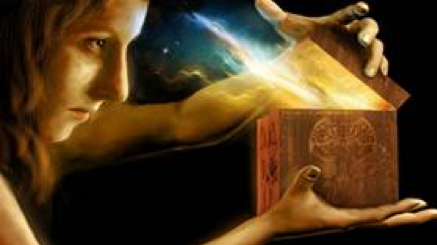 Early implementations of NFV simply substituted siloed, vendor-centric, physically-wired Network Services with siloed, vendor-centric, hard-coded Network Services, without deliver any operational benefit. As a result, implementation of next-generation virtualized networkshaslargely stalled. Custom code, manual integration and human intervention simply does not scale (see VNF Interoperability Challenges blog post).
While NFV opensthe door to a more modular and dynamic environment, it presents an environment that is too complex and fast moving for manual control. It's not enough to virtualize Network Functions, the industry requires a new kind of Operational Support System; a new "middleware" between the products they want to offer and the underlying applications, services, resources and systems that fulfill them.
Operators need to emulate the Cloud-native companies by driving efficiencies with web-scale, autonomous processes to drive-out costs and enable real-time optimizations.
The Solution
Getting Network Services to self-scale, self-heal and self-optimize is not magic. The telecom industry is familiar with closed-loop automation and Self-Optimizing Networks, however the scope of Zero-touch Network and Service Management is unprecedented. ZSM is not about statically optimizing a single siloed service in advance for one fixed offering, it's about enabling an open framework for modeling and managing services that are dynamically and continuously optimized based on real-time state, network telemetry and subscriber metadata.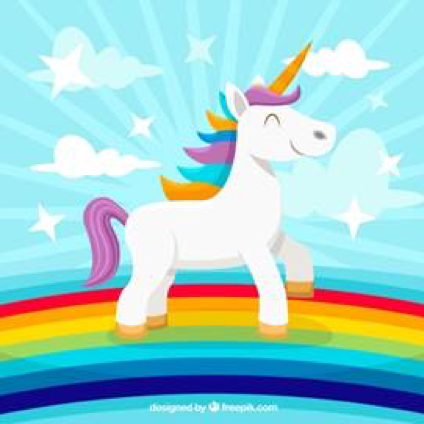 In software, you extend automation by raising abstractions over the things you want to manage (see New Stack article). The abstraction hides lower-level complexity to enable higher-level programmability. It provides a machine-readable model so a system can interpret events, automate decision-making and take actions to optimize deployments and lifecycle management. The zero-touch automation system must enforce polices to maintain SLAs, balance and prioritize utilization of resources, and address faults and failures.
The scope goes beyond deploying Virtual Network Functions to cover all of lifecycle management in multi-vendor, multi-domain scenarios (configs,updates, upgrades, port change, security, maintenance, testing performance monitoring, de-commissioning, etc.). To expand automation across domains, Operators need a rich abstraction layer over-the-top, that provides a shared source of semantics, metadata and state. This layer doesn't compete with functional or administrative domains, rather itcomplements them, providing a model to connect them in end-to-end solutions.
ETSI ZSM Proof-of-Concept
EnterpriseWeb is now leading the first ETSI ZSM PoC (see Light Reading article, ETSI ZSM blog). The PoC team includes Amazon Web Services, Amdocs, Fortinet, Metaswitch, EXFO and Infosim and is supported by DT and Sprint.
We are demonstrating automated end-to-end SLA management for a multi-vendor, multi-domain, secure VoLTE network service. The PoC's contributions to ETSI ZSM lay the foundation for a new OSS – lightweight, distributed, event-driven.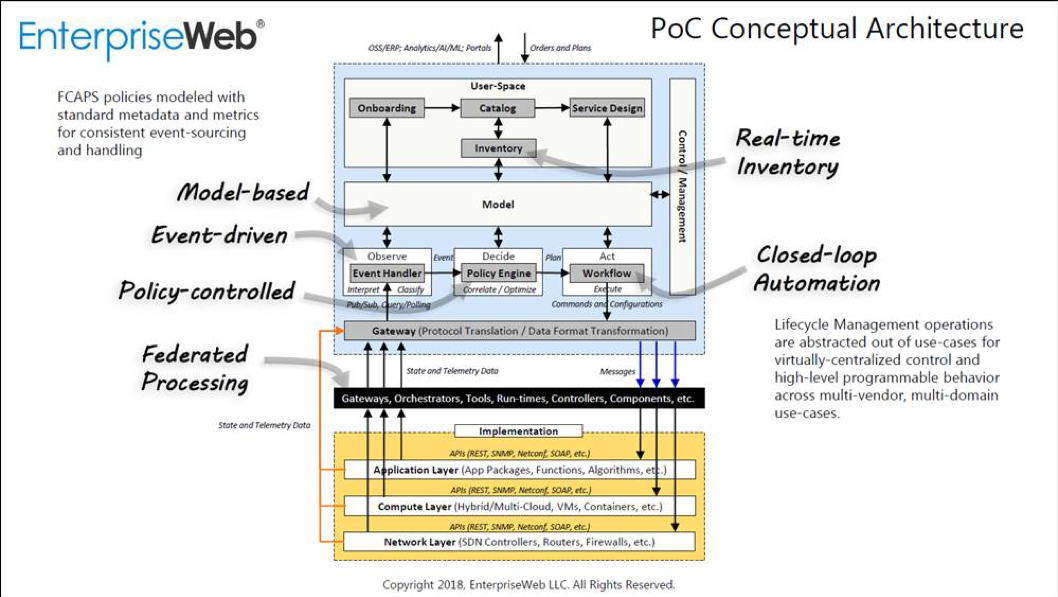 The Opportunity
After six years, the NFV market is still nascent and most Communication Service Providers are still struggling to achieve scalable NFV-based operations. The industry is in the trough-of-disillusionment. EnterpriseWeb can help advance the industry by delivering standards-compliant solutions with advanced automation capabilities to enable, accelerate and de-risk CSP transformation initiatives.
About EnterpriseWeb
EnterpriseWeb® is a NY-based software company that offers an integration and automation platform for Digital Business transformation. It helps organizations flexibly connect people, information, capabilities, network resources and physical devices/equipment in 'smart', event-driven processes.
"CloudNFV" is EnterpriseWeb's award-winning solution for zero-touch network and service management automation.
CloudNFV provides a unified orchestration, configuration and service management solution, which acts as a next generation OSS – lightweight, distributed and event-driven. It dynamically integrates and controls network services across vendors, domains, Clouds and management systems.
With CloudNFV customers can rapidly onboard all the elements of their use-cases (VNFs, VNFMs, NFVOs, VIMs, Host APIs, etc.) as re-usable software objects registered in a Catalog. The objects can be declaratively composed into "intent-based" (infrastructure-independent) Network Services that are self-scaling, self-healing and self-optimizing.
CloudNFV supports multi-vendor, multi-VNFM, multi-Cloud and multi-VIM scenarios for a wide-range of Operator use-cases (vIMS, vEPC, VoLTE, C-RAN, vCPE, SD-WAN, etc.). CloudNFV enables automated management of end-to-end SLAs in a multi-vendor, multi-domain scenario.
EnterpriseWeb is widely recognized as a pioneer in the NFV market. The company ran the first ETSI sanctioned NFV Proof-of-Concept, "CloudNFV" and subsequently collaborated with leading Operators and Vendors in six award-winning Catalyst projects in the TM Forum.
The Company won "Best NFV Interoperability" at Layer 123's SDN & NFV World Congress at the Hague (October, 2017) and was recently awarded Light Reading's Leading Lights "Best NFV Product Strategy" (May, 2018). CloudNFV is deployed at one of the world's largest Communication Service Providers.
EnterpriseWeb is now leading the first Proof-of-Concept for ETSI Zero-touch Network and Service Management. An ambitious PoC demonstrating automated end-to-end SLA management in a multi-vendor, multi-domain scenario. The PoC team includes DT, Sprint, Amazon Web Services, Amdocs, EXFO, Infosim, Fortinet and Metaswitch.