Carol Wilson, Editor-at-Large, Light Reading
Posted: 8/18/2017
http://www.lightreading.com/automation/enterpriseweb-early-to-nfv-finally-ready-for-take-off/d/d-id/735530
If you haven't heard about EnterpriseWeb, then you are likely not tracking the many NFV proofs-of-concept and TM Forum Catalyst projects. This software company is practically ubiquitous in providing the middleware for network operators and vendors alike to make those collaborative demo projects work.
It's not hard to find big fans of what EnterpriseWeb LLC does, either — multiple industry analysts agree that its model-driven software platform can automate the process of knitting together disparate things to enable, among other things, rapid turn-up of virtual network functions. Even as the open source sector launches major new initiatives in this exact space, however, EnterpriseWeb remains a tiny company, with an admired software platform and a vivacious front man in Co-founder and Managing Director Dave Duggal, but not a ton of announced customers.
Duggal is now saying this is all about to change, pointing to a strategic alliance with integrator PwC Consulting , and major announcements looming on the horizon. He admits it's taken some time, but says EnterpriseWeb's moment has come.
"We had to do a lot of thought leadership, we ran the first NFV POC, Cloud NFV and we collaborated with just about everybody and their mother in the TMF and we were essentially just earning our street cred," Duggal says in an interview. "In the last 12 months, things have really made a turn. The world is turning to face us. We are expecting a lot to happen in the next few months." (See Answering the NFV Management Challenge.)
Explaining it all
Duggal is happy to explain what EnterpriseWeb does, but asking him to do so will always cost you at least an hour. So let's let some industry analysts break it down a bit more succinctly.
"I would liken it to a universal nut and bolt that allows you to put together (and take apart) a car more quickly than by soldering," says James Crawshaw, senior analyst with Heavy Reading . "If the components of the car — engine, drive train, chassis, etc. — are bad quality you'll still make a bad car but at least you can rip and replace defective parts more easily."
Caroline Chappell, lead analyst for Analysys Mason 's Software-Controlled Networking research, has carefully tracked EnterpriseWeb over the years and recently authored a white paper on the company's efforts. She credits Duggal and his co-founder, Bill Malyk, the company's chief systems architect, with coming closer than others to solving the thorny problem around how to tie together all the elements of a service in the virtualized world without using hard-coding.
"As everything turns into software, you want to be able to thread it all together, ideally without having to write lots of hard-coded interfaces," Chappell says in an interview. Certainly, automation can be done using hard-coded scripts between application programming interfaces, she notes, "but if the API changes, you break the integration. In addition, you have to write hard-coded integration for every combination of API-to-API, and that is getting absolutely out of hand. It's a really big problem."
EnterpriseWeb is different from any other orchestration vendor in that, while most have data models, there are still requirements for writing scripts, she says. Cisco's LSO uses YANG models, but that in itself is stirring debate over whether YANG models can do more than model devices, Chappell notes. In today's world, integrating each VNF is a separate process, which is why it takes so long she says.
"Whereas if you just model it in Dave's way of doing it, the integration is already pre-built. They've already been modeled in his world," Chappell says. "So the VNF can come in and the VNF can understand how it talks to all the others through the model."
EnterpriseWeb's model-driven approach creates "an abstraction of everything into a kind of common language, and then there is a run-time that executes the conversations, if you like, between the abstractions," Chappell says, admitting the technology is complex and, to some extent defies simple explanations.
That is one of the challenges facing Duggal, who is more direct in explaining what EnterpriseWeb can do for telecom operators and enterprises than in parsing how it's done.
"Enterprise Web acts as a layer doing mediation between multiple VNF-Ms [virtual network function managers], and that is actually accelerating their onboarding, and we are proving it to [operators] every step of the way," he said. "PwC made us prove it — we're showing progress replacing entire classes of middleware technology [because] our technology is faster, better and more agile, and all of this is really transparent in the last 12 to 18 months."
The company replaces manual work by operations staff with intelligent software agents — dubbed Smart Alex — that use a form of artificial intelligence to replace manual coding and recoding and integration, Duggal explains.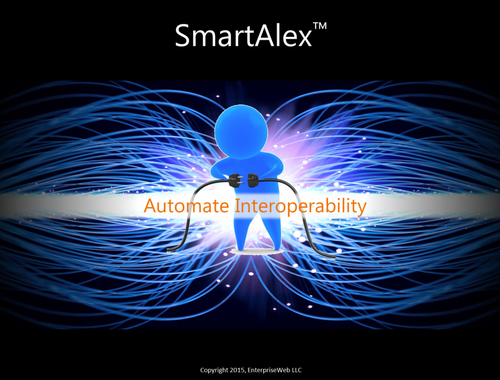 Industry analyst Tom Nolle, president of CIMI Corp. ., has first-hand knowledge of what EnterpriseWeb can do. He ran CloudNFV, the consortium of companies that created the first NFV proof-of-concept, and EnterpriseWeb was part of that group.
"During the execution of CloudNFV, there is no question that the orchestration functionality, the modeling functionality that was in CloudNFV all along and that was demonstrated to the two operator [participants], the core of that stuff, the orchestration modeling part of it, was EnterpriseWeb," Nolle says in an interview. (See Analyst Nolle: Fundamental Errors Plague NFV.)
Back to the future
CloudNFV happened back in 2014. EnterpriseWeb has continued to work on similar projects, mostly through the TM Forum Catalyst process. Last year, it played a critical role in an award-winning project, Enabling the digital services marketplace with automated onboarding, that was championed by AT&T Inc.(NYSE: T), China Mobile Ltd. (NYSE: CHL), Orange (NYSE: FTE) and Verizon Communications Inc. (NYSE: VZ) and included Amdocs Ltd. (NYSE: DOX), Huawei Technologies Co. Ltd. , IBM Corp. (NYSE: IBM) and Oracle Corp.(Nasdaq: ORCL).
According to the TM Forum, this project was a merger of previous catalysts. One of its goals was developing a standard metamodel or common model for highly diverse applications that include not just VNFs but other types of virtual functions, to support a range of distributed computing challenges for enterprise applications, the Internet of Things and more.
One of EnterpriseWeb's contributions was developing a metamodel from a range of standards and contributions, including standards from the Forum using TOSCA (Topology and Orchestration Specification for Cloud Applications) and some of the concepts developed by the ETSI NFV Industry Standards Group. The idea was to create a practical approach to offering platform-based services, and it brought together work from previous catalyst projects, in which EnterpriseWeb also played a key role.
That work would seem to be very timely — operators are increasingly focused on automating processes and finding standard ways to onboard VNFs. But companies such as AT&T and Orange are turning to open source efforts such as the Open Network Automation Platform and not necessarily tapping EnterpriseWeb.
Nolle believes that may be happening because what EnterpriseWeb is selling is part of what operators want but not the whole thing.
"I think the problem is that there is no easy way to sell somebody a toolkit if what they want to buy is a car," he comments. "I think that EnterpriseWeb presented a very interesting set of low-level features but that the buyers wanted solutions."
Crawshaw notes that what EnterpriseWeb is attempting to tackle is "not just a minor addressable niche, but the whole world — enterprise middleware, the whole telco NFV" which is a lot for one very small company to tackle. "They are a very interesting company and I'd certainly wish them success."
Chappell, who is still convinced the company has a solution that will work, thinks one problem is that network operators are reluctant to adopt proprietary models — thus the push for an open source solution.
"The industry is saying all the time that they'd adopt this tomorrow if it was open source," she comments. "But the guys who have gone to all the trouble of building these exceptional models want to get the financial benefits from them. It has taken a lot of work, and in EnterpriseWeb's case, it is based on very clever advanced concepts."
There is also, of course, the likelihood that EnterpriseWeb is too small a company to attract a major telecom operator — a possibility even Duggal admits. He says that's why the connection to PwC and potentially other partners is part of his company's plans. Duggal also teases, however, that a major network operator may soon have something to say.
"We don't want to be a service company; we'll gladly work with others," he says. "We just want to be the world's greatest software company. We want to sell licenses for a platform, and we will train, teach, educate, transfer knowledge to any partner so this way, you got another way and we're not locking people in."
— Carol Wilson, Editor-at-Large, Light Reading