By Dave Duggal on November 4, 2016
Originally published on LinkedIn.
While the Cubs grabbed the spotlight Weds night by breaking a 108 year losing streak, EnterpriseWeb won another TM Forum award for its latest Catalyst project, extending a winning streak that began with the company's support of ETSI NFV's first proof-of-concept, "CloudNFV", four years ago.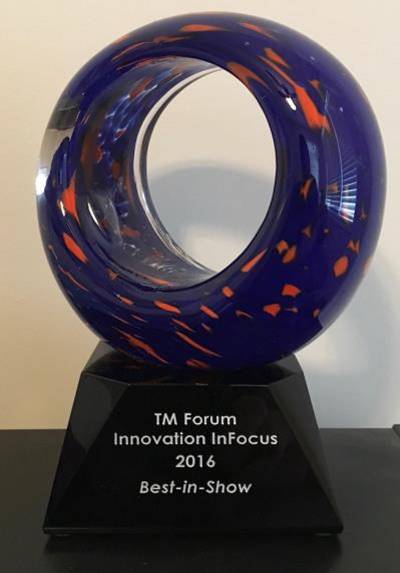 In presenting the Best in Show award, Laurent Leboucher, Chairman of the Forum's Collaboration Sub-Committee and Vice President of APIs and Digital Ecosystems Orange, said the decision was unanimous and that the project represents a
… breakthrough from the software engineering standpoint. This may be the best Catalyst we've seen in the last five years 
The collaborative project was a continuation of another award-winning Catalyst, "The Well-enabled Package", which explored on-boarding and lifecycle management challenges and identified the need for standard metadata to streamline Service Provider processes.
This time around, the team featured an all-star cast from Service Providers and vendors, including ATT, China-Mobile, Orange, Verizon, CBPN, Huawei, IBM, Oracle and EnterpriseWeb around a shared vision of "Enabling Digital Service Marketplaces with Standards".
The project brings together the work of multiple Standards bodies into a model-of-models, or 'Metamodel'. The Metamodel includes operational concepts from TM Forum's Frameworx, virtualization concepts from ETSI NFV and DevOps concepts from OASIS TOSCA for a unified description of the domain.
The Metamodel provides a template to capture a rich set of metadata about a Virtual Function (i.e. any software function/application, not just Virtual Network Functions), and its behaviors (configurations and controls) that can be used to automate downstream processes. The Catalyst leveraged the Metamodel, contributed by EnterpriseWeb, to demonstrate a radically simplified approach to onboarding and lifecycle management.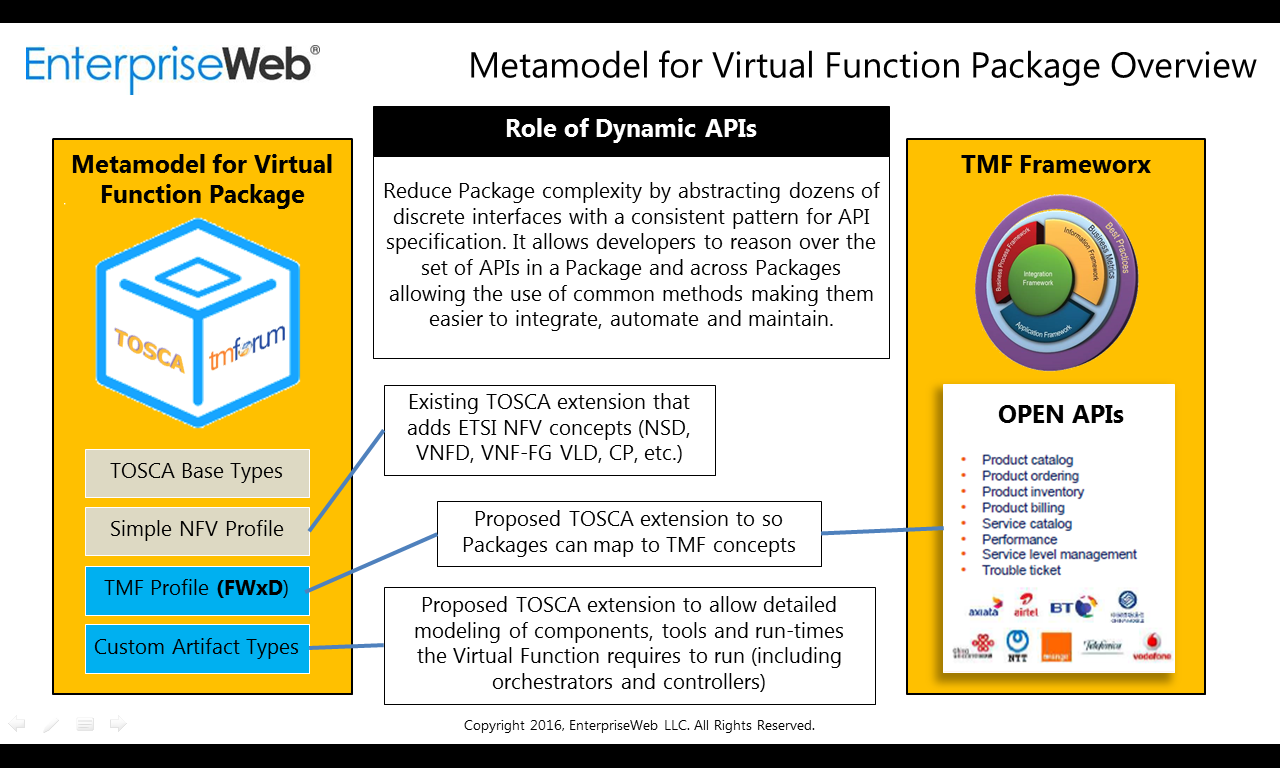 The Catalyst addressed a major pain point, the "integration tax", which has been a roadblock for Carrier Virtualization initiatives. To achieve the transformation to Digital Service Providers, the industry needs to eliminate the time, cost and complexity of working in multi-vendor eco-systems. The emerging vision features competitive marketplaces where Service Providers can 'discover' new partners and functionality, which they can seamlessly onboard and compose with other capabilities into value-added product offerings for their consumer and enterprise customers. However, old practices don't support these new requirements.
The Catalyst demonstration, at the TM Forum's InFocus event in Dallas, showed the industry how "The Metamodel for a Virtual Function Package" can make it easy for Service Providers to onboard new partner capabilities from marketplaces and automate their handling throughout the end-to-end lifecycle, streamlining hand-offs across stakeholders. It presented a working model of real-time, multi-tenant, multi-cloud, hybrid workloads based on standards. The outputs and learnings from this Catalyst are intended to help accelerate the realization of Platform Business Models.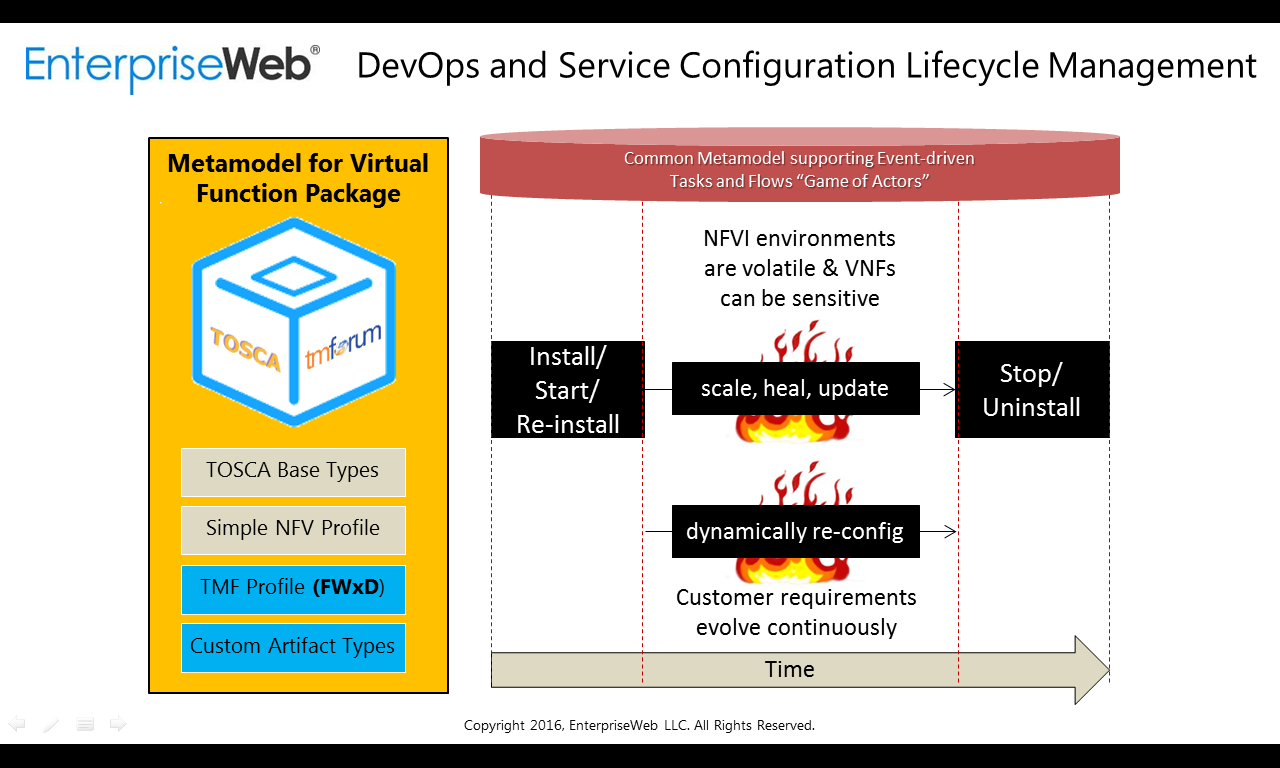 With innovation cycles accelerating and customer expectation for continuous delivery of new services, the Metamodel was specifically designed to evolve with the industry as technologies, protocols and business operations change over time. It implements the "Dynamic APIs Pattern", previously contributed to the TM Forum by EnterpriseWeb, which provides a flexible, extensible and adaptable structure for modeling APIs. Dynamic APIs abstract integration complexity by presenting a common machine-readable pattern, which allows humans and systems to reason over a set of interfaces in a consistent manner enabling improved interoperability, addressing the core technical challenge of working with heterogeneous partner functions that are constantly being updated, upgraded and replaced. Manual integration simply can't scale to keep up with this demand.
The Catalyst represents the convergence of technology enablement and standards, coming together to support the development of digital service marketplaces and business transformation.