EnterpriseWeb® offers a much needed consistency layer, a normalized library instrumenting a distributed IT environment, which allows common tools, services and management over disparate systems, databases, machines, devices, technologies and protocols (i.e. connect, configure, coordinate or control).
The Platform presents a 'web' of indexed and tagged REST endpoints (URIs), which provides logical access to Services and APIs across silos, in the Cloud and beyond organizational boundaries.
The endpoints are abstracted as uniform objects, hiding their diverse connection, type and dependency details in order to enable unified search, declarative composition, and virtually centralized policy management.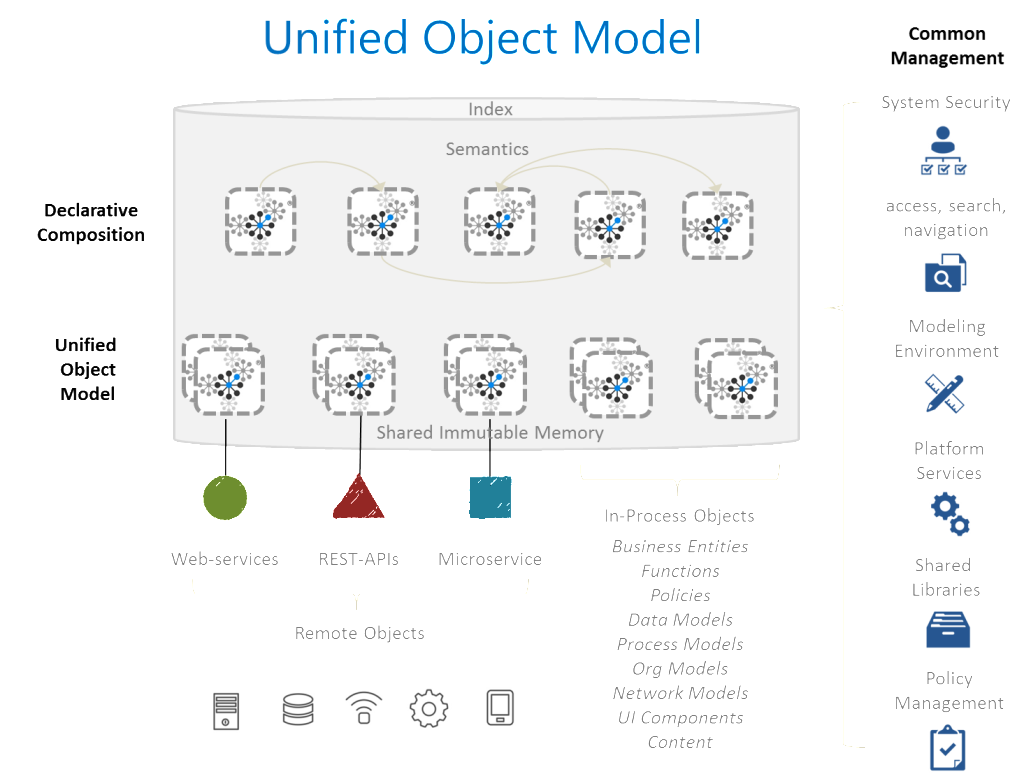 The Platform's model-driven design-studio supports rapid prototyping and low-cost change for truly agile-development. It provides a unified workbench for building Cloud, IoT, DevOps and System pipelines, as well as Human workflows for end-to-end automation.
EnterpriseWeb's runtime environment features an Intelligent Agent, SmartAlex®, which automates routine development tasks and dynamically orchestrates processes, enabling a new class of event-based data-driven and highly-connected applications.
SmartAlex does all the heavy-lifting, wrangling and mashing-up diverse data sources and functions in the background, so people are liberated from these complex technical tasks and can focus on composing value-added services. Since the agent processing is dynamic, there are no tightly-coupled integrations, so the resulting applications are flexible and adaptable. Now designers can rapidly model solutions out of re-usable building blocks and link them to policies and algorithms that guide SmartAlex to find-and-bind the right information on-demand. SmartAlex is an Intermediary, like a Concierge, which responds to requests for service, leveraging real-time information, its interaction-context, to personalize user-experiences and optimize transactions.
The agent performs diverse workloads, taking on the tasks typically delivered by an unwieldly stack of middleware components (e.g. App Servers; ESBs; BPMS/BPEL; BRMS; CEP; NoSQL DBs; Data Virtualization; Integration Tools; Scripting Tools; API management; Service Catalogs; Gateways; etc.). In this way, EnterpriseWeb represents an opportunity to rationalize application infrastructure and reduce Capital and Operating Expenses.
Reduce transaction costs: The fabric minimizes the hops, joins and context switching between non-differentiating middleware components, which liberates cycles for more I/O and compute intensive applications.
Reduce systems costs: The platform reduces the need for non-differentiating middleware components, which results in a smaller footprint, lower hardware and software costs, minimizes system integration, accelerates time-to-value and cuts ongoing maintenance costs.
Importantly, it performs all of this without becoming a bloated monolith. Instead of manually encoding SOA logic in an Enterprise Service Bus, which creates choke-points and single points of failure, EnterpriseWeb stores all computational logic as Objects in libraries, which can be both clustered or distributed.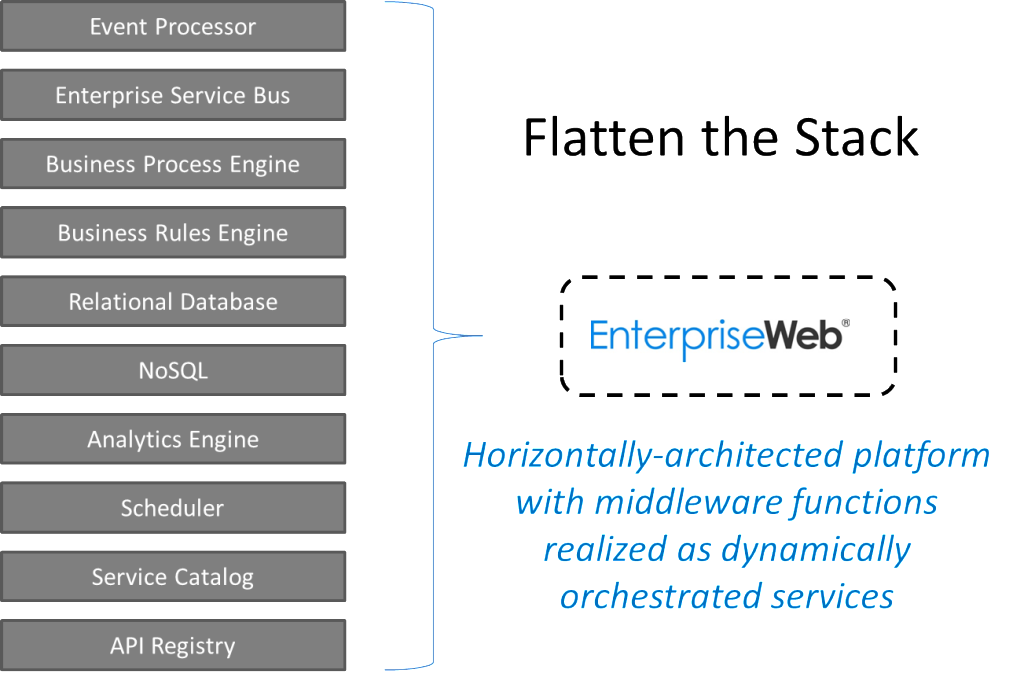 While legacy vendors may excel within specific domains, EnterpriseWeb's advantage is that Customers can extend system capabilities when and how they want by simply adding objects to the library, creating re-usable resources, providing a future-forward platform that can evolve with requirements.
The Platform can be flexibly deployed on-premise, in the Cloud and its fabric architecture naturally supports hybrid-Cloud. In addition, EnterpriseWeb can be embedded in appliances and devices.
EnterpriseWeb is your on-ramp to the future. It simplifies distributed computing, while reducing the cost, effort and risk of innovation.